A 10,000 foot view over key topics in emerging technology research
The world of emerging tech research has been an ETO focus from the start. Together with our CSET colleagues, we've worked to develop rigorous and diverse datasets on the research landscape, including our Merged Academic Corpus and Research Cluster Dataset. Built into tools like the Map of Science and Country Activity Tracker, our data can help you dive deep into the world of research, from pinpointing specific, fast-emerging specific research topics to understanding how particular countries collaborate on AI research.
Sometimes, though, a quick bird's-eye view is what you need. Our Research Almanac, launched today, is an easy-to-use dashboard of trends in English-language emerging technology research, covering research output, growth, and trends among countries, research institutions, and companies active in R&D. Powered by ETO's Merged Academic Corpus (MAC), the initial version of the Almanac focuses on topics and applications in artificial intelligence.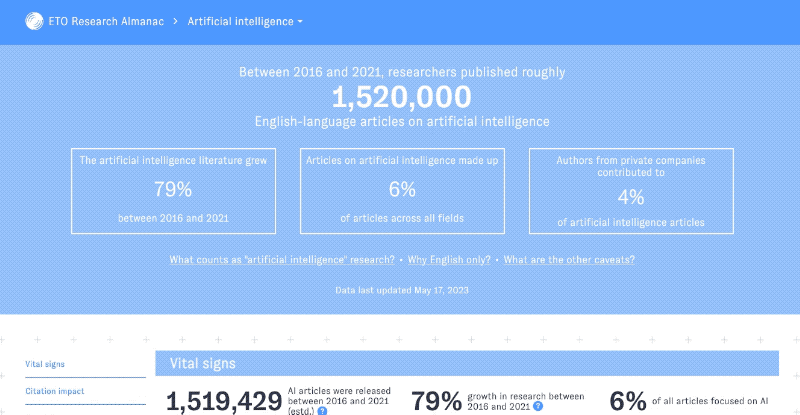 Use the Almanac to: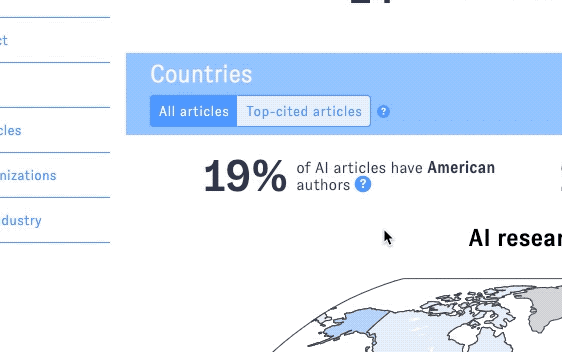 The Almanac relies on article-level metadata from ETO's Merged Academic Corpus (MAC). When you visit a topic's Almanac page, you'll see facts and figures derived from the English-language articles tagged in the MAC with that topic. We use a variety of methods to apply topic tags to each article, including some new ones developed especially for the Almanac - like our new machine-learning classifier for articles related to AI safety, which we'll cover in depth in an upcoming post. You can read about our topic-tagging approach, and all the other nuts and bolts of the Almanac, in the Almanac's documentation.
Over the coming weeks, we'll highlight key facts and figures from the Almanac in our ongoing Datapoints series. In the meantime, you can explore the Almanac for yourself at https://almanac.eto.tech. As always, we're here for any questions you might have along the way: check our in-depth documentation, contact us, or get live support during our standing office hours. Good luck exploring!