Notes on our new discovery tool for Chinese-language science and technology writing
China's rise as a science and technology power has provoked scrutiny, admiration and even fear abroad - and perhaps above all, an intense desire to know more. Fortunately, China's science and technology ecosystem produces lots of information to help answer these questions, in outlets from official media, policy documents, and academic journals to "netizen" commentaries and a wide range of private and semi-private news websites. But unfortunately, this information is often missing from discussions abroad. There are big obstacles in the way:
The sheer volume of information being produced is overwhelming, even for professional tech analysts and China watchers.
Many leading Chinese-language science and tech outlets are virtually unknown abroad - meaning that most foreigners simply don't know where to look in the first place.
And of course, most of the information is in Mandarin, making it hard for non-speakers to efficiently browse and sift even with the latest machine translation tools.
With our latest tool, ETO is tackling these obstacles head-on. Today, we're excited to introduce ETO Scout, a new discovery tool for Chinese-language writing on science and technology. Scout compiles, tags, and summarizes news and commentary from selected Chinese sources, helping English-speaking users keep up to date and discover new perspectives.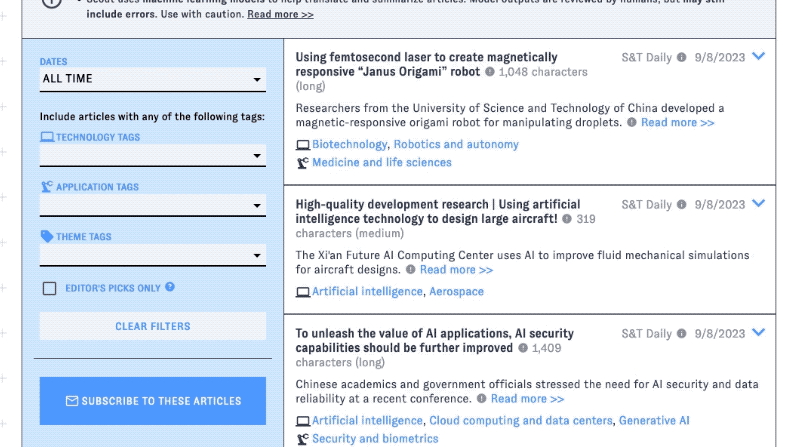 With Scout, we hope to help fill the urgent need for information on China's science and technology enterprise. We live in an especially complex period in relations between China and the rest of the world, with science and tech issues playing a pivotal role. With broader geopolitical tensions, language barriers, and many other factors in play, it can be all too easy to miss important developments, oversimplify, or fall victim to hype or misunderstandings. In the science and technology domain, English-language outlets such as ChinAI, ChinaTalk, DigiChina, and CSET's own translation team help reduce these risks by bringing Chinese-language views and information into the English-language discourse. Scout is meant to build on this critical work, enrich debate, and drive better-informed decisions on emerging technology issues.
To start using Scout, just open the user-friendly web interface and start exploring. Use the summaries, topical tags, and filters to pinpoint the articles that interest you most, then access the original sources as well as machine translations with a single click. You can also sign up for customized updates, delivered to your inbox daily, weekly, or monthly through Scout's email service.
For a more detailed guide to the tool, check out Scout's documentation, or get in touch to schedule a chat - we'd be glad to walk you through. 🤖