Exploring the frontiers of quantum science - plus applications in sensors, AI, cryptography and more.
This is the second post in our 🔥🔥Hot Topics🔥🔥 series. Follow along with each post as we use ETO's Map of Science to uncover and explore emerging topics in STEM. All of the research in this post was done using the Map of Science only, in less than an hour, by one non-expert analyst (your narrator). The first post in the series explored emerging topics in materials science.
When we built the Map of Science, we wanted to give users of different backgrounds, resources, and analytic perspectives a genuinely accessible way to explore global research. To achieve our mission, we combined powerful methods for combining, processing and enriching hundreds of millions of research articles with a flexible, intuitive interface that's free for all to use.
The Map of Science helps users quickly find specific areas in science and tech that matter to them, starting from broad questions like:
Which topics are growing fastest?
Which types of research are having the biggest impact?
What are researchers in a particular country most interested in?
The Map can help you get a handle on questions like these - all without a team of experts or a multimillion-dollar budget. To see how this works, let's use the Map to uncover hot topics in quantum science. As in our prior post on materials research, we'll begin by filtering the Map by subject. Our subject assignment model includes several specific topics related to "quantum" - let's select all of them.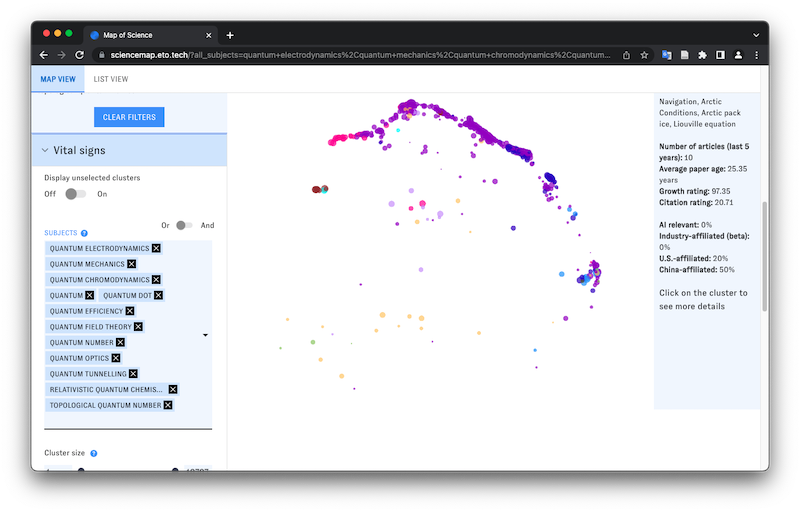 As before, we'll filter down to relatively "young" research clusters (with an average article age of five years or fewer) with a large number of recent articles (100 or more in the last five years). Finally, we'll look only for research that gets cited frequently (defined here as a higher citation rate than the median across all of the clusters in the Map).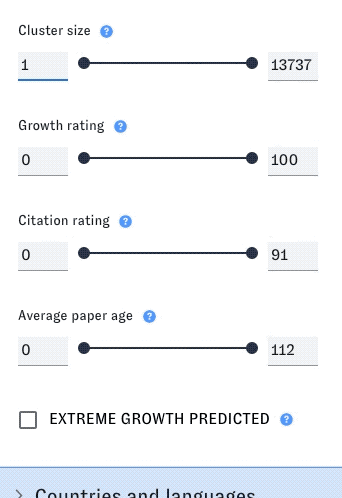 Our results are now ready for browsing in the Map's list view, including some especially intriguing clusters.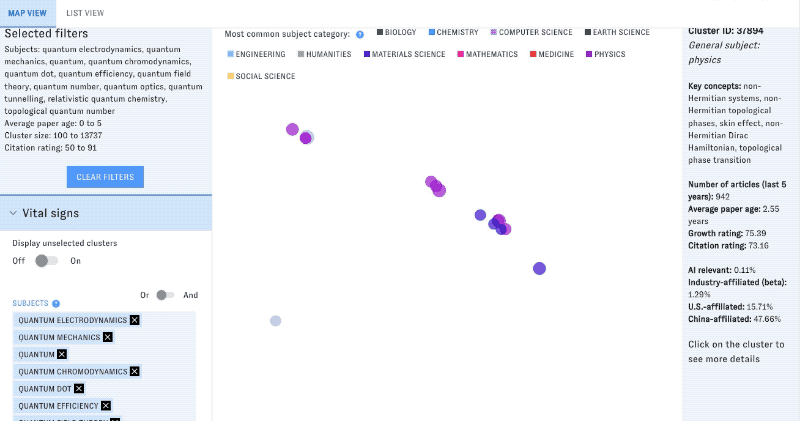 Cluster ID

What does this cluster seem to be about? (summary based on the cluster's keywords and top articles)

Number of articles (last 5 years)

Selected articles (selected from the "Articles and sources" pane in the cluster's detail view)

Other interesting features (based on information from the cluster's detail view)

48420

Single-photon emitting materials

643

"Quantum emitters in 2D materials: Emitter engineering, photophysics, and integration in photonic nanostructures"
"2D materials for quantum information science"

One in six articles in this cluster (98/643) has an author from the University of Technology Sydney

41709

Using machine learning to analyze quantum phenomena

828

"Drawing Phase Diagrams of Random Quantum Systems by Deep Learning the Wave Functions"
"Machine Learning Topological Invariants with Neural Networks"

Many authors are affiliated with institutions in Toronto (University of Waterloo, Perimeter Institute, Vector Institute)

57676

Quantum computing attacks on Feistel cryptographic structures and other ciphers

462

"Implementing Grover oracles for quantum key search on AES and LowMC"
"Quantum key-recovery attack on Feistel structures"

29 patents cite articles in this cluster

2503

Quantum computing algorithms

3804

"Noisy intermediate-scale quantum (NISQ) algorithms"
"Supervised learning with quantum-enhanced feature spaces"

Top author organizations from industry: Google, Microsoft, IBM, Xanadu Quantum Technologies

44652

Detecting contaminants with quantum dot sensors

442

"A facile optosensing protocol based on molecularly imprinted polymer coated on CdTe quantum dots for highly sensitive and selective amoxicillin detection"
"Construction and Application of Molecularly Imprinted Fluorescence Sensor"

About half of articles (217/442) reported funding from a Chinese organization

49998

Applications of van der Waals heterostructures

599

"Van der Waals heterostructures for high-performance device applications: challenges and opportunities"
"Antiambipolar Transistor: A Newcomer for Future Flexible Electronics"

91% of articles are in English, but the top ten author organizations are all East Asian

44845

Tungsten and molybdenum disulfide quantum dots

504

"WS Nanosheet/Graphene Heterostructures for Paper-Based Flexible Photodetectors"
"Molybdenum Disulfide Quantum Dots: Properties, Synthesis, and Applications"

Leading author country: India (206/504 articles)

2781

Topological semimetals

2524

"Extremely high conductivity observed in the triple point topological metal MoP"
"Magnetic Weyl semimetal phase in a Kagomé crystal"

Research is cited in patents for quantum computing, thermoelectric devices, far-infrared detection, hydrogen production
To explore these results for yourself, click here to run the same search in the Map of Science. In our next Hot Topics post, we'll move from the world of quantum science to explore emerging topics in computer and networking hardware. Check back soon!