How we used the Map to uncover hotspots across the global research landscape, from advanced materials to pharmacology.
ETO's Map of Science is designed to give users of different backgrounds, resources, and analytic perspectives an accessible way to explore global research. To achieve this mission, we combined powerful methods for merging, processing, and enriching hundreds of millions of research articles with a flexible, intuitive interface.
The Map of Science helps users quickly find specific areas in science and tech that matter to them, starting from broad questions like:
Which research areas are growing the fastest?
Which types of research are having the biggest impact?
What are researchers in particular countries publishing on?
To show how the Map can help turn questions like these into actionable insight, we recently took it on a test drive through five different domains of science and technology: materials science, quantum research, computing and networking hardware, Chinese AI research, and pharmacology. Within each domain, we applied filters in the Map to identify especially "hot" topics, each represented by a specific research cluster –– a group of articles that cite each other unusually often, typically because they share traits like subject matter, author, language, or authoring institution. (Read more about research clusters and how we identify them.)
The Map of Science organizes the global research literature into tens of thousands of these clusters, which can then be filtered and sorted with the Map's user-friendly interface to pinpoint research of greatest interest.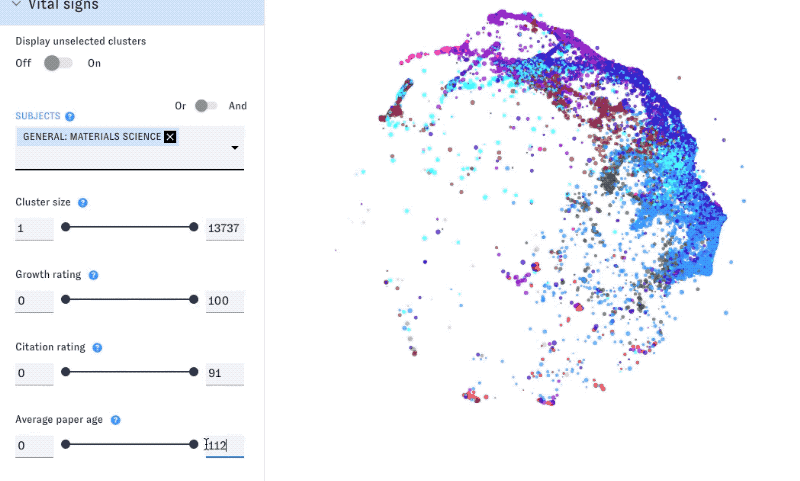 For our "hot topics" exploration, we looked for research clusters in each of the five broad domains that were:
Large: containing 100 articles or more, reflecting an active area of research.
Young: with an average article age of five years or under, reflecting lots of recent activity.
Fast-growing: adding new papers faster than most other clusters in the Map.
Impactful: whose articles were cited frequently, compared to articles in other clusters in the Map.
What we found
The Map's interface includes filters for each of these characteristics. By combining them with the Map's subject-matter filters, a single, non-expert analyst (your narrator) was able to quickly zero in on especially interesting areas.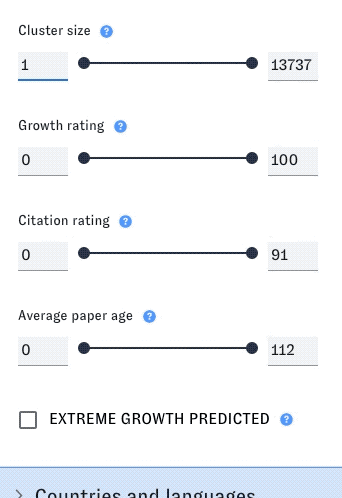 The earlier entries in our Hot Topics series have more details for the five different domains of research we explored. Here are some highlights, with full results for each domain listed at the end of this post.
Thousands of articles on or related to zinc-ion batteries have been published in the past few years alone.
Government-affiliated researchers seem to be interested in high-entropy ceramics. Top authoring institutions in this fast-growing area include the Chinese Academy of Sciences, Oak Ridge National Laboratory, and Northwestern Polytechnical University (a Chinese military-affiliated university).
Laser-induced graphenes are attracting attention for their uses in applications including wearable technology and alternative energy.
👉 Read the post: What's hot in materials science? Discovering emerging topics with ETO's Map of Science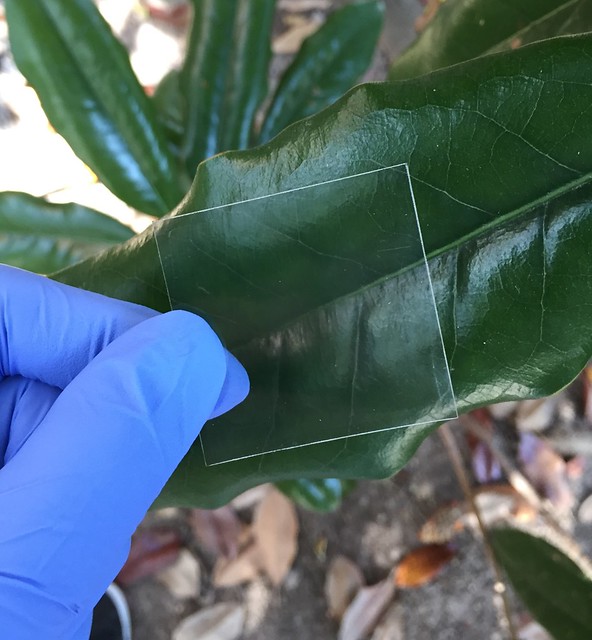 👉 Read the post: What's hot in quantum? Discovering emerging topics with ETO's Map of Science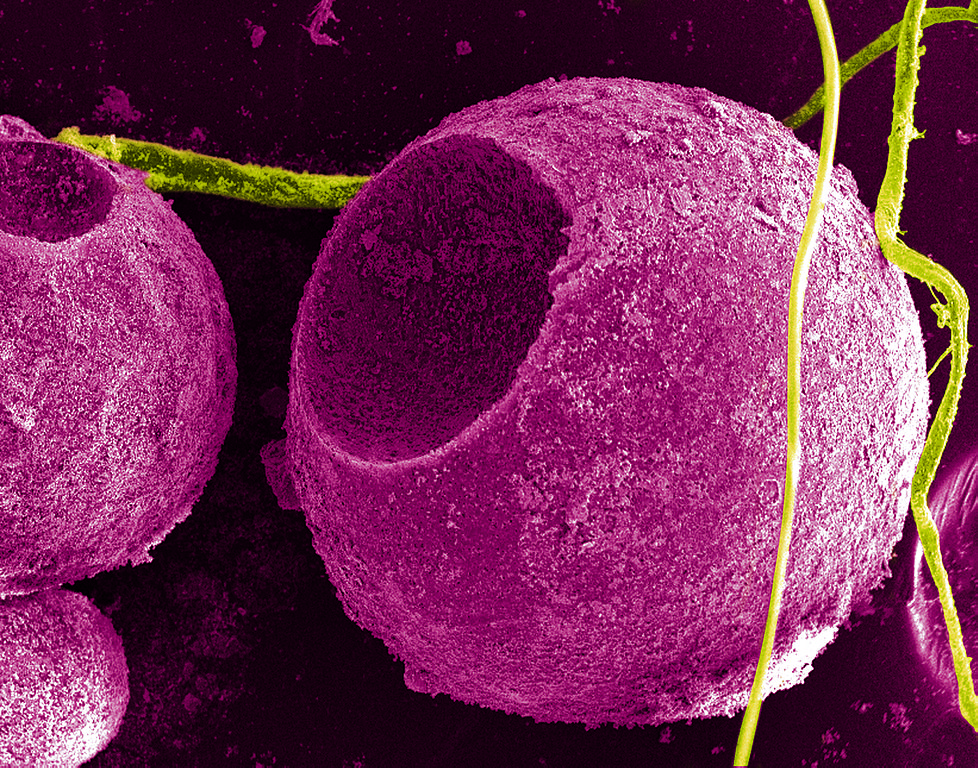 👉 Read the post: What's hot in hardware? Discovering emerging topics with ETO's Map of Science
👉 Read the post: What's hot in Chinese AI research? Discovering emerging topics with ETO's Map of Science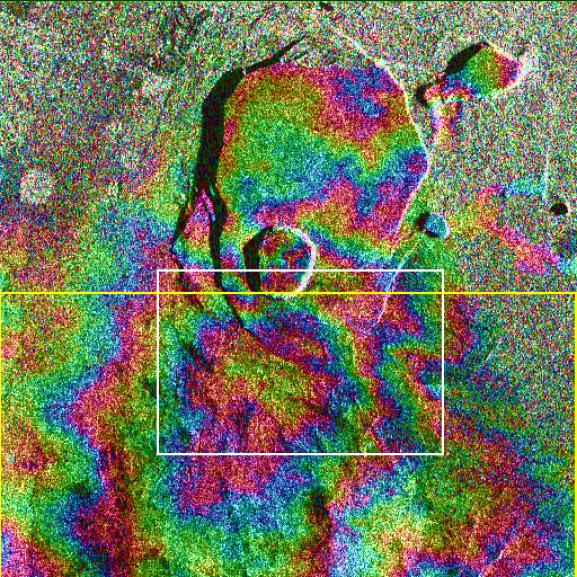 👉 Read the post: What's hot in pharmacology? Discovering emerging topics with ETO's Map of Science
---
Hopefully, these quick examples help show how you can use the Map to efficiently explore the global research landscape –– and (once you have an approach that gives interesting results) how you can tweak it without too much trouble.
Of course, no single method or resource is perfect, and the Map of Science certainly has its limitations. We hope the Map will be a useful complement to other methods, not necessarily a replacement. On its own, the Map can provide good initial insight into many important questions about global science and technology. If you have access to subject-matter experts, scholarly datasets, or other such resources, so much the better. We believe the Map will make those resources moreuseful, not less, by helping you easily and efficiently scope your analysis, experiment with different perspectives on the landscape, and find interesting "entry points" for further investigation.
To start using the Map of Science, visit sciencemap.eto.tech. In the meantime, if you'd like to learn more about the Map, its capabilities, and its limitations, ETO is here to help: check out our blog posts or the Map's documentation, book a live support slot, or contact us directly.
Full results
Read the post: What's hot in materials science? Discovering emerging topics with ETO's Map of Science
Read the post: What's hot in quantum? Discovering emerging topics with ETO's Map of Science
Read the post: What's hot in hardware? Discovering emerging topics with ETO's Map of Science
Read the post: What's hot in Chinese AI research? Discovering emerging topics with ETO's Map of Science
Read the post: What's hot in pharmacology? Discovering emerging topics with ETO's Map of Science